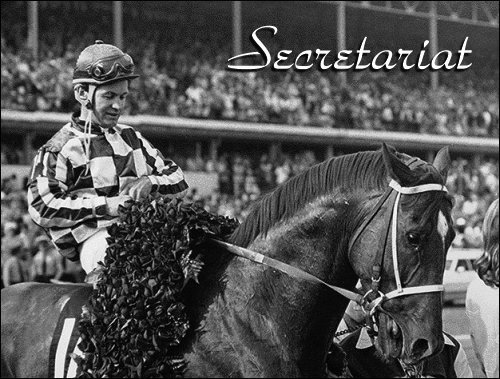 ---

Half a century after Man o' Wat set the standard for greatness in racing, another flame-colored colt appeared on the sport's horizen to assume his mantle as champion of champions. Secretariat was foaled in Virginia on March 30, 1970, and from the outset seemed a horse of destiny. Bred by the late Christopher Chenery, the powerfully muscled son of eight-time leading sire Bold Ruler and Somethingroyal would achieve immotality in the distinctive blue and white checkered silks of Meadow Stable, run by Chenery's daughter Penny.
At two, Secretariat lost his debut but thereafter finished first in eight consecutive races, including the Sanford, Hopeful, Futurity, Laurel Futurity, Garden State, and Champagne Stakes. (He was disqualified in the latter.) He did not merely win, but demolished his fields with such fabulous displays of speed and strength, that he made very good colts look ordinary. So impressive was Secretariat's juvenile campaign he was voted the Eclipse Award as North America's Horse of the Year - a unique honor for a two-year-old.
In the capable hands of trainer Lucien Laurin and jockey Ron Turcotte, Secretariat emerged absolutely awe-inspiring at three. Despite an uncharacteristically lackluster performance in the Wood Memoria, Bold Rulrt's big red son was favored to become the first in 25 years to sweep the American Triple Crown. Sweep it he did, topping the effort with 31-length, record-breaking victory in the Belmont Stakes.
That summer and fall, Secretariat added the Arlington Invitational, Marlboro Cup, Man o' War Stakes, and Canadian Internationl to his list of credits, the last two on grass. He won 9-of-12 starts in 1973, and the superstitious among us will note that his only three losses came in races that started with the letter "w" - the Wood Memorial, Whitney, and Woodward Stakes.
By late 1973, Secretariat had become too valuable to race. Syndicated for a then-record $6-million, he retired to Claiborne Farm in Kentucky, where he embarked upon a successful stud career. He died at that farm 15 years later after losing a battle to the killer hoof disease know as laminitis.
Secretariat was represented by several outstanding runners, including 1985 Horse of the Year Lady's Secret. However, because he never got anything at all like himself, he was dismissed by some as disappointing. Although he never led an American general sire list by earnings, Secretariat was tops among broodmare sires in 1992, his daughters proving to be great producers.
Race Record: Raced two seasons (1972-1973), 21 starts, 16 wins, 3 seconds, 1 third. Earned: $1,316,808. Horse of the Year, champion two-year-old colt (1972); Horse of the Year, champion three-year-old colt (1973). Set or equaled five American or track records on dirt and grass.
Progeny: 661 foals; 477 starters; 323 winners; 56 stakes winners; total earnings $25.7-million. Sire of champions Lady's Secret, Risen Star, and Medaille d'Or; major stakes winners Weekend Surprise, Tinners Way, Pancho Villa, General Assembly, Terlingua, etc.

---