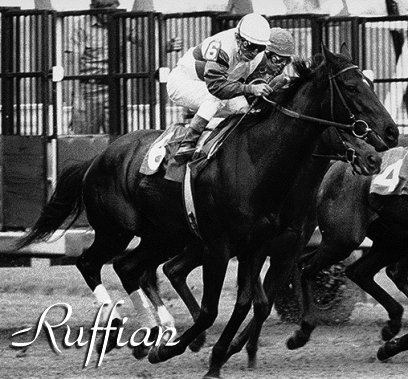 ---
Her life spanned barely three years, her racing career just 11 starts, and more than 20 seasons have passed since her fatal breakdown at Belmont Park. Yet Ruffian's meteoric career - her magnificent size, her awesome power and strength, her electrifying speed, her unconquerable spirit and will to win - remains evergreen in racing's collective memory. She was arguably the greatest racemare of all time, one who set or equaled time records in every stakes in which she ran, and who had no need for encouragement from a whip.
Ruffian was bred by Mr. and Mrs. Stuart Janney Jr. and foaled at Claiborne Farm in Kentucky on April 17, 1972. A nearly black filly of mammoth proportions, she was an anomaly in every way. Though her pedigree was strong - by a son of Bold Ruler, out of a stakes-producing mare - nothing in it could have predicted Ruffian.
Her career began on May 22, 1974, at Belmont Park, when trainer Frank Whiteley entered her in a 5 1/2-furlong race for non-winners. She won by 15 lengths and equaled the track record. She proceeded then to storm through her division in cyclonic fashion - tying her own speed record in the Fashion Stakes; winning the Astoria by nine, the Sorority by 2 1/2, the Spinaway by 13 - in the fastest six furlongs ever run by a two-year-old at historic Saratoga racetrack.
A hairline fracture of her right hind leg sidelined Ruffian that fall, but she returned better than ever in 1975, becoming the filly Triple Crown winner, with triumphs in the Acorn and Mother Goose Stakes and Coaching Club American Oaks - the latter at 1 1/2 miles.
When it became clear that Ruffian had no worthy rivals left among members of her own sex, a special match race was orchestrated for July 6, 1975, at Belmont Park. In this much-publicized "battle of the sexes," she was to meet the season's leading colt, Kentucky Derby winner Foolish Pleasure, going 1 1/4 miles for a purse of $350,000. A half-mile into the race, with the massive filly inching ahead of her smaller male rival, Ruffian suddenly and catastrophically broke down in her right front ankle. Despite agonizing pain, her fighting spirit urged her to continue the battle, until jockey Jacinto Vasquez was at last able to force her to a stop.
Ruffian survived surgery but awoke from anesthesia in such a fury she further damaged an already grave injury. The great filly was euthanized in the early morning of July 7 and was buried in the infield at Belmont Park - her head pointing toward the finish line she never reached.
Race Record: Raced two seasons (1974-1975), 11 starts, 10 wins. Earned $313,429. Champion two-year-old filly (1974); champion three-year-old filly (1975).