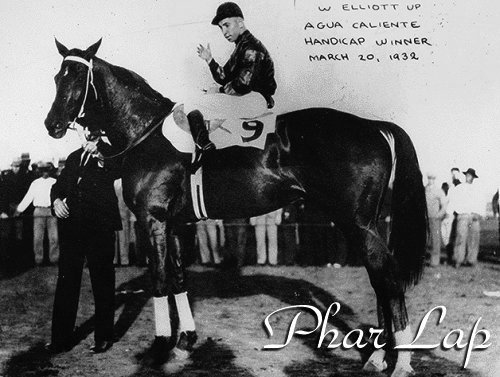 ---
At first, Phar Lap must have seemed an unlikely candidate to achieve true greatness - the gandly New Zealand-bred gelding lost nine of his first ten starts in Australasia. From those early days of obscurity, however, Phar Lap would develop into one of the most accomplished and charismatic racehorses the world has ever known. He scaled the heights of his sport as a weight carrier, distance runner, record setter, and international champion.

Phar Lap (Thai for "lightning") was so unimpressive in appearance and lineage, he was gelded and sold for $900 as a yearling. In the hands of trainer Harry Telford, he began to blossom at three, when he set time records in two Derbys and won at up to 2 1/2 miles. At four, he was simply superb. That season, Phar Lap won 14-or-16 starts, dodged an assassin's bullet prior to an important race, then captured Australia's ledendary two-mile Melbourne Cup under 138 pounds. In 1931, he tried and failed to win a second Cup with an almost unbelievable 150 pounds up (54 more than the winner), proving only that he was mortal.

In 1932, Phar Lap sailed 10,000 miles to contest the $50,000 Agua Caliente Gold Cup in Tifuana, Mexico - the richest event of America's Depression era. The "Red Terror" lived up to his pre race billing, won easily with 129 pounds up, and set a track record for 1 1/4 miles.

A U.S campaign was planned for Phar Lap, in which he would challenge champions Equipoise and Twenty Grand, but two weeks after his Caliente victory, the great gelding died under mysterious circumstances - with traces of arsenic found in his system. Offical reports stated that he had consumed pesticied-sprayed grass, but rumors held that he had been killed by underworld connections. The case was never solved.

The international winner of 37 races returned home in 1933, where his hide was mounted and displayed in an Australian museum, his skeleton put on exhibit in New Zealand. To no one's surprise, the autopsy revealed that Phar Lap's heart was enormous - more than twice the size of that of an verage equine.

Race Record: Raced four seasons (1929 - 1932), 51 starts, 37 wins, 3 seconds, 2 thirds. Earned $332,700.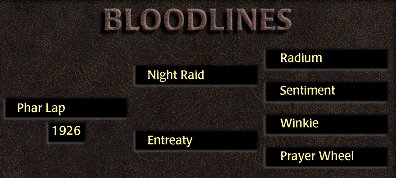 ---