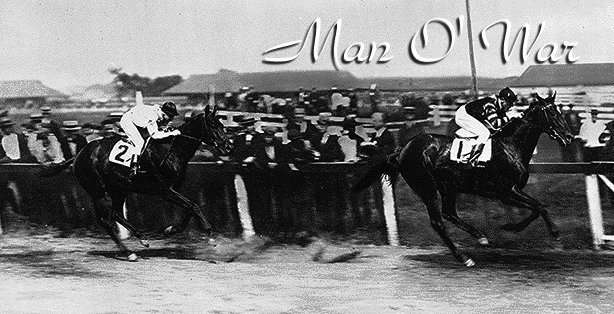 ---
It has been 75 years since he last set foot on a racetrak, yet Man o' War remains the standard by which all other Thoroughbreds are compared. In 1919-1920, this amazing colt, affectionately dubbed "Big Red" for his flame-colored coat, achieved unprecedented dominance over his peers, winning 20-of-21 starts and capturing the public's imagination in a way no horse ever had.

Foaled in 1917 at August Belmont's Nursery Stud, the son of Fair Play sold at Saratoga as a yearling for $5,000 to Samuel Riddle. At two, he won 9-of-10 starts, narrowly losing only the Sanford Memorial to the aptly named Upset. The loss was a fluke, for Upset never again came close to Man o' War.

In 1920, Man o' War bypassed the Kentucky Derby, but swept undefeated through 11 starts, including the Preakness and Belmont Stakes, the Dwyer, Travers, and Potomac Handicap, the latter under 138 pounds. He set world, track, and American speed records seemingly at will and won by margins of up to 100 lengths. Man o' War's final public appearance came in a 1920 match race at Woodbine in Canada, when he defeated 1919 Triple Crown winner Sir Barton - himself a great horse.

Man o' War retired in 1921 to Faraway Farm, with American record earnings of $249,465. He quickly became Kentucky's number one tourist attraction, as thousands came from all over the world to visit him each season. Despite limited opportunities as Riddle's private stallion, Man o' War eventually sired more than 60 stakes winners, including Horses of the Year War Admital and Crusader and Kentucky Derby winner Clyde Van Dusen. His influence is still felt today in the far reaches of important pedigrees.

Man o' War, who was described by his longtime groom as "demostest hoss," died on November 1, 1947, at the age of 30. He recieved a proper burial in a funeral that was attended by hundreds. In the 1970s, his gravesite was moved to the Kentucky Horse Park, where it is marked by a life-sized bronze statue of his likeness.

Race Record: Raced two seasons (1919 - 1920), 21 starts, 20 wins, 1 second. Earned: $249,465. "Horse of the Century." Set of equaled five American or track records.

Progeny: 381 foals; 289 starters; 217 winners; 61 stakes winners; total earnings $3.5-million. Leading North American sire of 1926. Sired champions War Admitral, Crusader, Bateau, Scapa Flow, American Flag, Edith Cavell, Maid at Arms, Florence Nightingale; stakes winners Clyde Van Dusen, Battleship, War Relic, etc.