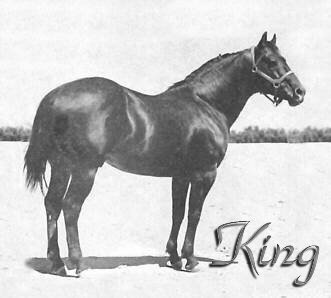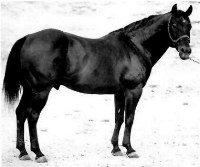 ---
Mark Twain said "If I can't smoke cigars in heaven, I'm not going." Legions of Quarter Horse "persons" have said if it doesn't have KING in the pedigree, "I ain't riding it!" Strong statements, however, King P-234 was a very special horse. He has been the most inbred, linebred, out-crossed and star-crossed sire to ever grace the Quarter Horse industry. No self respecting reiner or cutter ever knowingly rides a horse without a few crosses to King ... and some feel the more, the better.
All bands and military units use a cadence to time their steps. Quarter Horse Breeders have used their special cadence, "KING-2-3-4 " for over 60 years. Breeders, ranchers, trainers, amateurs, backyard horse folks, kids, and others have marched with the tremendous legacy King horses have provided. Comments like: "they're born broke; they train themselves; I can take 'em anywhere; they are so easy to be around." These are the kind of attributes that make the King horses some of the best to ever carry a rider.
King was foaled in 1932, sixty-six years ago, some eight years before the formation of the Quarter Horse registry. He was purchased by Jess Hankins for $800 in 1937. Foolish, some folks thought, but by today's standards ... a downright bargain. Remember, this was the height of the Great Depression. King was a 5 year old stallion when Jess bought him, then becoming King's third owner. He had been used for roping, general ranch work, and had sired a few foals by this time.
King was blood bay and he had a magnificent hair coat. When he shed out in the spring, gold flecks appeared, giving him an unusual sheen. He was quick to learn, easy to get along with, and possessed plenty of cow sense. King, at maturity stood between 14.2 to 15 hands, well muscled and weighed from 1,150 to 1,200 pounds. His excellent conformation became the standard for the Quarter Horse breed. He was greatly admired for his outstanding disposition and willingness. For years Jess Hankins advertised King as the cornerstone of the breed ... in retrospect, an apt description!
Byrne James was one of King's first owners, his wife gave King his distinguished name. "You've heard the expression, 'the King of Beasts'? Well, to me he was the KING, superior to all the rest." Prior to this change he was known as 'Buttons,' not a bit fitting for the sovereign who was destined to become the greatest sire in Quarter Horse history. Quoting Jess Hankins, "He was as good a natured stud as you could find, and he could be ridden by any kid who ever handled a horse." King remained kind and gentle all his life. His outstanding disposition and athleticism are among his greatest legacies, and they passed on!!
King wasn't just a horse to the Hankins family, he was family. He certainly put Rocksprings, Texas, on the map and helped make the Hankins brothers some of the most famous breeders in Quarter Horse annals. When King died in 1958, at the age of 26, the Quarter Horse Journal noted, "No other stallion now living can boast such a record as King's, and only time will tell when another will equal it." Forty some years later, no other stallion has ever come close. In the 1950's King's breeding fee was $2,500 ... phenomenal money to spend on a stud! Today, in the 90's this fee represents some of the top end prices for sires offered. Will any of them prove to have the same success that "King" horses have provided all these years?
King is on the All Time Leading Broodmare Sires of AQHA Champions list. Not only is he ranked #2, with 20 Champions to his credit, he is also represented by 4 sons, Poco Bueno, Royal King, Beaver Creek, and Hank H, and 2 grandsons, Poco Pine and Poco Dell. Of note, a half brother, Ed Echols, appears on the same list. No other sire equals King's standing. Three Bars (TB) and Wimpy are the only other sires represented by more than 1 son. Of the 22 stallions listed, King has direct ties with 8. If this isn't enough to excite you, consider his producing daughters!
King daughters have produced some of the most successful get in Quarter Horse history. Squaw King (a father to daughter breeding), King Bars, Leo Bob, Mora Leo, Red Bars, Bar Feathers, Gay Bar King, Joe Cody, Okie Leo, Thirsty, Coaster, Baca Leo, Purio Tivio, Aledo Bars and Enterprising King are a few of the more famous King grandget. His daughters' (317 in all) produce records are very interesting reading. Many were inbred to his sons, grandsons, and as mentioned above, daughter back to sire. When it's all said and done, his daughters produced offspring earning 13,054 points in all divisions, 210 ROMs, 50 AQHA Championships. Not bad for an $800 horse.
Perhaps Larry Rose, a leading reining trainer and breeder of reining horses, sums it up best. "I'm a King fanatic! If King had never been born, we would still be in the dark ages of horses."
Pedigree
KING
P-234
1932 bay
Zantanon
U-081745
1917 sorrel
Breeder: Ott Adams
Little Joe
Traveler
unknown
unknown
Jenny
Sykes Rondo
McCoy Billy
Old Billy / Shiloh
Fleming mare
Grasshopper
Cold Deck / Old Billy
Alice / Harry Bluff
May Mangum
Anthony
Old Billy / Shiloh
Paisana / Bailes' Brown Dick
Belle Nellie
Fannin's Tiger / Tiger
unknown
Jeanette
Billy
Big Jim
Sykes Rondo
McCoy Billy / Old Billy
Grasshopper / Cold Deck
McFadden mare
unknown
unknown
unknown
unnamed mare
Sykes Rondo
McCoy Billy
Old Billy / Shiloh
Fleming mare
Grasshopper
Cold Deck / Old Billy
Alice / Harry Bluff
unknown
Jabalina
U-072570
Owner: C. Manuel
Benevides Volpe
Strait Horse
Yellow Jacket
Little Rondo
Lock's Rondo
Whalebone / Old Billy
Mittie Stephens / Shiloh Jr
Minnie Franks
Project (TB)
Franks mare
Barbee Dun
Lock's Rondo
Whalebone / Old Billy
Mittie Stephens / Shiloh Jr
Mary Lee
Joe Lee / Hamilton's Joe
Nellie
Gardner Quarter mare
unknown
unknown
bay mare
Traveler
unknown
unknown
unknown