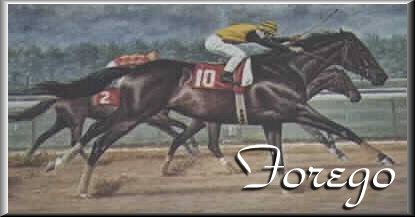 ---
When Forego was born in 1970 he was big and awkward. This made him slow to develop, and the other horses his age went on to the racetrack while his training was delayed for nearly a year. He would eventually grow to be a towering 17.1 hands tall.
Forego did not make his first start until he was three years old. He ran in some stakes races in Florida but didn't have much success. Few people had heard of Forego when he ran a surprising fourth in the 1973 Kentucky Derby, which was won by the great Secretariat.
Forego continued to mature and develop through the summer. In late fall, he won his first stakes race when he captured the Roamer Handicap in New York. He followed it up with another victory in the Discovery Handicap. His winning streak continued into the new year, when he turned four years old. In many stakes races, the best horses are "handicapped" by being required to carry more weight than the other horses in the race, so that the other horses have a fair chance to win. Forego won four consecutive stakes races in Florida and New York, carrying higher weight in each race. Finally, in May, his streak came to an end when he was second in the Metropolitan Mile while carrying a staggering 134 pounds. Forego went on to win and place in more stakes, while almost always carrying top weight, and ended the year of 1974 with eight wins in 13 races, and earnings of over a half million dollars, a lot of money for those days. He won Eclipse Awards for Champion Older Male, Champion Sprinter, and the most prestigious award in all of racing, Horse of the Year.
One race that Forego ran third in that year was the Marlboro Cup Invitational, which only invited the very best horses to compete. In 1975, Forego again ran in the Marlboro Cup, after having another successful year and winning many stakes in Florida and New York, always having to carry top weight. In the 1975 Marlboro Cup, he had to carry 10 pounds more than the top three-year-old, Wajima. Forego battled gamely through the stretch, but the younger colt beat him by a head. Two weeks later, with both carrying equal weight, Forego won the Woodward Stakes by two lengths while Wajima was second. Once again, Forego was Horse of the Year and Champion Older Male.
In 1976, Forego's increased age and tendencies toward unsoundness allowed him to only compete in eight races. He won six of them and was second and third in the other two. His most famous race was his third attempt at the Marlboro Cup. This time, he had to carry a whopping 137 pounds, giving 18 pounds to the top three-year-old, Honest Pleasure. The track was sloppy, which made it difficult for a come-from-behind horse like Forego to close on the front runners. At the top of the stretch, he appeared hopelessly defeated while Honest Pleasure had a clear lead. Forego pounded down the muddy stretch with relentless determination, closing the gap between himself and Honest Pleasure with every huge stride. Finally, just as they reached the finish line, Forego pushed his head in front. It was one of the greatest finishes of the decade. Forego's courage earned him Horse of the Year and Champion Older Male titles for the third year in a row.
As a seven-year-old in 1977, Forego won four of seven races, and was second two other times. While a younger champion and Triple Crown winner named Seattle Slew now took Horse of the Year honors, Forego's accomplishments were enough for him to be named Champion Older Male for the fourth consecutive year. He only started twice at the age of eight, and a recurring ankle problem prompted his retirement in July of 1978. In all, he had started 57 times, with 34 wins, 9 seconds, and 7 thirds. His lifetime earnings were just shy of two million dollars.
For the next few years, Forego enjoyed retirement at John Ward's Training Center, across from Keeneland Race Track. In the late 1980's, he was moved to the Kentucky Horse Park. Now 26 years old, he continues to live a life of leisure and is paraded before an adoring public every day from May through October.

UPDATE
From the Kentucky Horse Park Home Page:
"Lexington, KY (August 27, 1997) – Thoroughbred great FOREGO died today, August 27, 1997 at the Kentucky Horse Park where he had been retired after an extraordinary racing career. The 27 year old gelding was humanely put down as the result of a fractured long pastern bone which occurred while turned out in his paddock at the Park's Hall of Champions. He has been buried near his paddock."