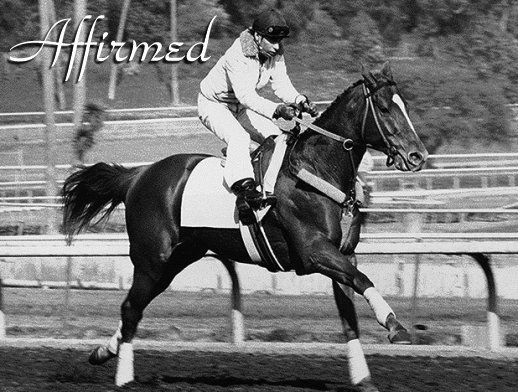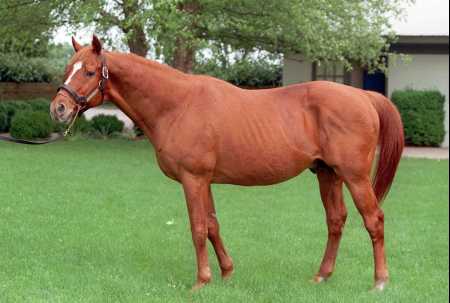 ---
Only 11 times in this century has a three-year-old swept the American Triple Crown - a grueling series that demands tremendous courage, heart, and athletic ability. Eighteen years ago, Harbor View Farm's Affirmed became the last to turn that rare feat in capturing the 1978 Kentucky Derby, Preakness, and Belmont Stakes. His may have been the most remarkable Triple of all, for he rose to that challenge with a truly great nemesis breathing down his neck every step of the way.
Affirmed was a chestnut racing machine - lean, graceful, and without an ounce of extra bulk anywhere on his classic frame. The son of Exclusive Native raced for Louis and Patrice Wolfson's Harbor View Farm, was trained by Cuban-born Laz Barrera, and ridden at two and three by a rising star named Steve Cauthen.
He would have been a standout in any year, but Affirmed's true greatness was highlighted by a heated two-season rivalry with Calumet Farm's brilliant Alydar. At two, the red-coated pair met six times, with Affirmed taking four of the meetings and the championship. The feud re-ignited in their classic season and, again, Affirmed proved best - but just barely. He fought hard to win the Triple Crown over Alydar by a total of less than two lengths. The Belmont Stakes of 1978 has gone down as one of the most dramatic races of all time, as Affirmed dug in to hold off the closing charge of Alydar by a head.
In the Travers Stakes that summer, Affirmed out finished Alydar for the eighth time, but was disqualified for interference. Though he later lost twice to 1977 Triple Crown winner Seattle Slew, Affirmed was selected the 1978 Horse of the Year, and was syndicated for future stud duty at $14.4-million.
At four Affirmed lost twice before Cauthen was replaced by the stronger Laffit Pincay Jr. The result was a seven-race romp, beginning with a 10-length score in the Charles H. Strub Stakes and followed by: the Santa Anita Handicap under 128 pounds; the Californian with 130; the Hollywood Gold Cup packing 132 in near-world record time; a New York allowance in a sizzling 1:34 mile; the Woodward Stakes on a sloppy track; and the Jockey Club Gold Cup over three-year-old champion Spectacular Bid. Voted Horse of the Year for the second time, Affirmed was retired as the world's leading money winner and the first to top $2-million.
At stud in Kentucky - first at Spendthrift Farm, then at Calumet alongside Alydar, and finally at Jonabell Farm - Affirmed has been a success, getting among others, two-time American champion grass filly Flawlessly. As a sire he was compared unfavorably at first to Alydar, but has since gained respect with nearly 60 stakes winners and eight international champions through August of 1996.
NOTE: A sad note -- January 12, 2001, Affirmed was euthunized after months of leg problems. They felt it better to put him out of his misery than allow him to suffer. He was 26.